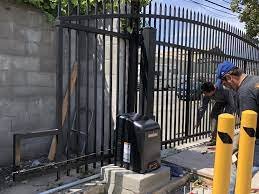 What to do if your garage door is not closing? Your garage gate is the most frequently used entrance for you and your cars and any trouble in their normal functioning can cause you big problems. While purchasing a home or a property your first priority must be a garage because it provides a safe environment for your car and can be used as a good storage place. But garage doors not closing on time can be your worst nightmare.
Are you dealing with a garage door that is not closing properly? Is it not closing or not closing at all? Here is a guide about what you should do if your garage door is not closing.
Check if there is any object in the path:
There might be an object or obstacle in the path such as a rock, toy, any object or even dirt can cause trouble in closing of your door.
Check the tracks:
The door can't run on a metal track if it's not aligned properly or if it's damaged. Hence causing problems in closing doors.
If your battery is dead or expired:
Automatic garage door system works with the help of an opener which requires a battery for their proper functioning. If these batteries are expired or dead, your garage door won't close.
Blurry or dirty photo eye:
Your gate opener won't work properly until your photo eye is clear. Blurry or dirty photo eyes can cause trouble in closing the gate.
Broken springs or wires:
If your torsion or extension springs are broken or wires and cables are not attached properly, your gate won't be able to close.
Check remote and Settings:
If your gate is not closing with the help.pf remote, there might be an issue in the remote battery or settings. Check its batteries and safety sensor settings. You can try to overcome these problems if your garage door is not closing. You might need professional help if it is still causing trouble in closing.
Portland, OR | Milwaukie, OR | Cedar Mill, OR | Beaverton, OR | Cedar Hills, OR | Oak Grove, OR |  Lake Owsego, OR | Tigard, OR | Vancouver, WA | West Linn, OR | Aloha, OR | Gladstone, OR | Minnehaha, WA | Tualatin, OR | Gresham, OR | Fairview, OR | Arnold | Creek, OR | Ashcreek, OR | Bridlemile, OR | Collins View, OR | Far Southwest, OR | Hayhurst, OR | Healy Height, OR | Hillsdale |  Homestead FL | Mapelwood, OR | Markham, OR | Marshall Park, OR | Multnomah, OR | Brentwood-Darlington, OR |Brooklyn, OR | Buckman, OR | Creston-Kenilworth, OR | Eastmoreland, OR | Foster-powell, OR | Hosford-Abernethy, OR | Kerns, OR | Laurelhurst, OR | Montavilla, OR | Mt. Scott-Arleta, OR | Mt. Tabor, OR | North Tabor, OR | Reed, OR | RichMond, OR | Sellwood-Moreland, OR | South Tabor, OR |Mount Vernon, OR | Woodlawn, OR | Northwest Poland | Arlington Heights, OR | Downtown Portland, OR | Forest Park, OR | Goose Hollow, OR | Hillside, OR | Linnton, OR | Nob Hill, OR | Northwest District, OR | Northwest Heights, OR | Old Town Chinatown, OR | Pearl District, OR | Sylvan Highlands, OR | Alameda, OR | Beaumont-Wilshire, OR | Boise, OR | Concordia, OR | Cully, OR | Eliot, OR | Grant Park, OR | Hollywood, OR | Humboldt, OR | Irvington, OR | King, OR | Lloyd District, OR | Madison South, OR | Northeast Portland, OR | Rose City Park, OR | Roseway, OR | Sabin, OR | Sullivan's Glutch, OR