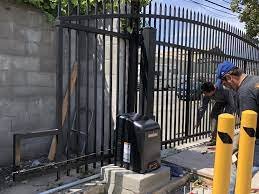 Why do you need Garage Door Service annually? Most of the people don't pay attention to their garage door after installing them. It's one of the most ignored parts of the house or property. This negligence can cause you big trouble. So your garage door needs proper maintenance and services to last longer. Here in this blog we will discuss why you need garage door service at least once a year.
What benefits can you get from garage door service?
Here is a list of benefits you can get:
It can save you time and money if you get annual servicing of your garage door rather than waiting for a bigger damage that can cause you trouble and be heavy on your pocket.
It will decrease the risk factor of you getting injured by a damaged garage door.
Your garage gate will be updated with new techs in the market.
You can also get access to experts who can guide you better about how to make your garage gate last longer.
If you get garage maintenance service annually you will have your go to option. In case of any emergency you can just connect to them.
It is convenient for you to get professional help to get annual servicing of your garage door.
What will be included in annual servicing of garage doors?
Annual maintenance include complete door servicing like:
Checking if the sensors are working properly.
If the door opens and closes properly.
If the opener is connected.
Is there any need to replace batteries?
Checking if there is any rust
Looking for handles and door knobs.
Investing cables and springs of the gate.
Lubrication of gate.
Checking proper functioning of eye sensors and remote controls.
It is highly recommended to get garage door service at least once a year so that your door can keep working smoothly. It is better to hire a professional to provide you these services.
Portland, OR | Milwaukie, OR | Cedar Mill, OR | Beaverton, OR | Cedar Hills, OR | Oak Grove, OR |  Lake Owsego, OR | Tigard, OR | Vancouver, WA | West Linn, OR | Aloha, OR | Gladstone, OR | Minnehaha, WA | Tualatin, OR | Gresham, OR | Fairview, OR | Arnold | Creek, OR | Ashcreek, OR | Bridlemile, OR | Collins View, OR | Far Southwest, OR | Hayhurst, OR | Healy Height, OR | Hillsdale |  Homestead FL | Mapelwood, OR | Markham, OR | Marshall Park, OR | Multnomah, OR | Brentwood-Darlington, OR |Brooklyn, OR | Buckman, OR | Creston-Kenilworth, OR | Eastmoreland, OR | Foster-powell, OR | Hosford-Abernethy, OR | Kerns, OR | Laurelhurst, OR | Montavilla, OR | Mt. Scott-Arleta, OR | Mt. Tabor, OR | North Tabor, OR | Reed, OR | RichMond, OR | Sellwood-Moreland, OR | South Tabor, OR |Mount Vernon, OR | Woodlawn, OR | Northwest Poland | Arlington Heights, OR | Downtown Portland, OR | Forest Park, OR | Goose Hollow, OR | Hillside, OR | Linnton, OR | Nob Hill, OR | Northwest District, OR | Northwest Heights, OR | Old Town Chinatown, OR | Pearl District, OR | Sylvan Highlands, OR | Alameda, OR | Beaumont-Wilshire, OR | Boise, OR | Concordia, OR | Cully, OR | Eliot, OR | Grant Park, OR | Hollywood, OR | Humboldt, OR | Irvington, OR | King, OR | Lloyd District, OR | Madison South, OR | Northeast Portland, OR | Rose City Park, OR | Roseway, OR | Sabin, OR | Sullivan's Glutch, OR