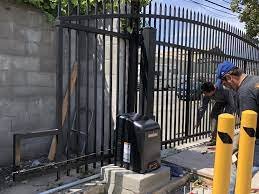 Guide to: Garage Door Broken Cable Repair Are you facing a problem with a broken cable of your garage door? Are you looking for methods to repair it? Here is a complete guide to garage door broken cable repair.
Why do garage door cables break?
There can be many reasons for garage door cable breakage. These include:
Cable is old and weak
Rusted cable
Incorrectly wound
Completely unwound
Loose screw
Understanding the type of garage door cable:
Depending on the springs of your doors, there are different types of cables. So before diving into the repair process you must have knowledge about these two types of cables.
Torsion spring cable
Extension spring cable
Why should you replace your garage door cable?
Broken or out of order cable requires replacement or repairing as soon as possible to prevent you from serious damage. Here are steps you can follow for garage door broken cable repair at home.
Before unwinding broken cable, open the door and lock it in an open position.
Use a vice grips on the bottom roller to hold the door in an open position.
Now after securing the door you must start removing the broken cable from the bottom.
Fix the new cable to the drum at the bottom and loop it around.
Replace both cables so that they can be of equal lengths.
Do you need professional help for repairing your broken cable repair?
If you have no experience and knowledge about garage door working and repairing then it might be tricky work for you. Your garage door cables are one of the most important components of it and it must be done correctly for your security and normal functioning.
Hence now you know the basic steps of garage door broken cable repair and you can try repairing it on your own but if the damage is extreme you might need to seek help from professional.
 Portland, OR | Milwaukie, OR | Cedar Mill, OR | Beaverton, OR | Cedar Hills, OR | Oak Grove, OR |  Lake Owsego, OR | Tigard, OR | Vancouver, WA | West Linn, OR | Aloha, OR | Gladstone, OR | Minnehaha, WA | Tualatin, OR | Gresham, OR | Fairview, OR | Arnold | Creek, OR | Ashcreek, OR | Bridlemile, OR | Collins View, OR | Far Southwest, OR | Hayhurst, OR | Healy Height, OR | Hillsdale |  Homestead FL | Mapelwood, OR | Markham, OR | Marshall Park, OR | Multnomah, OR | Brentwood-Darlington, OR |Brooklyn, OR | Buckman, OR | Creston-Kenilworth, OR | Eastmoreland, OR | Foster-powell, OR | Hosford-Abernethy, OR | Kerns, OR | Laurelhurst, OR | Montavilla, OR | Mt. Scott-Arleta, OR | Mt. Tabor, OR | North Tabor, OR | Reed, OR | RichMond, OR | Sellwood-Moreland, OR | South Tabor, OR |Mount Vernon, OR | Woodlawn, OR | Northwest Poland | Arlington Heights, OR | Downtown Portland, OR | Forest Park, OR | Goose Hollow, OR | Hillside, OR | Linnton, OR | Nob Hill, OR | Northwest District, OR | Northwest Heights, OR | Old Town Chinatown, OR | Pearl District, OR | Sylvan Highlands, OR | Alameda, OR | Beaumont-Wilshire, OR | Boise, OR | Concordia, OR | Cully, OR | Eliot, OR | Grant Park, OR | Hollywood, OR | Humboldt, OR | Irvington, OR | King, OR | Lloyd District, OR | Madison South, OR | Northeast Portland, OR | Rose City Park, OR | Roseway, OR | Sabin, OR | Sullivan's Glutch, OR